Automate batch encoding solution

If you have an online Audio/Video Site, you'll probably need to encoding audio/video from raw format, or you need your customers upload videos, and your website need to convert the video to specific format, such as wmv or flv.
The Haihaisoft automate batch encoding solution is a server side universal batch media encoding solution, which nicely integrates most popular audio/video codec and tools into an all-in-one solution. With a flexible and extendable architecture, new codec and tools are added in constantly as well as supports for new devices.
You just need to provide an audio/video path, the Haihaisoft automate batch encoding solution will automatically encoding files according to your settings.
Features:
Automate convert to and from almost all audio and video compression formats and re-multiplex into various container formats in batches
Integrates with your website seamlessly, enable real time converting when your customers uploading media files.
Full control over encoding parameters.
Faster conversion speed and higher quality than other encoder.
Support adding dynamic watermark. It can include: Username, User Passport or Drivers License Number, User ID.
Support Formats:
H.264, XviD, DivX, MPEG 1/2/4, Theora, Flash Video, Dirac, 3ivx, RM, ,RMVB;
MP3, Vorbis, AAC, AAC+, AMR, WMA, RAM;
FLAC, WavPack, Monkey's Audio, AAC Lossless, TTA, WAV/PCM, Waveform;
WMV, AVI, MPEG/VOB, MP4, PMP, ASF, QuickTime Mov;
CD, DVD, VCD, SVCD.
All you need to do is just specify the video location. It can run as a background service and integrate with your website seamlessly.
Benefits:
The easy way to batch encodes your video.
Time Savings. You don't need to hire employees to process a single video.
Full control over encoding parameters.
Scalability. It can process enormous data, and integrates with your current website and services. It supports multiple servers encoding video together.
Auto encrypt video after encoding. Haihaisoft Auto Batch Encoding Client can detect encoding status. After video encoding, it can encrypt video immediately. It achieves auto batch encoding, auto encrypt and publish your protected video.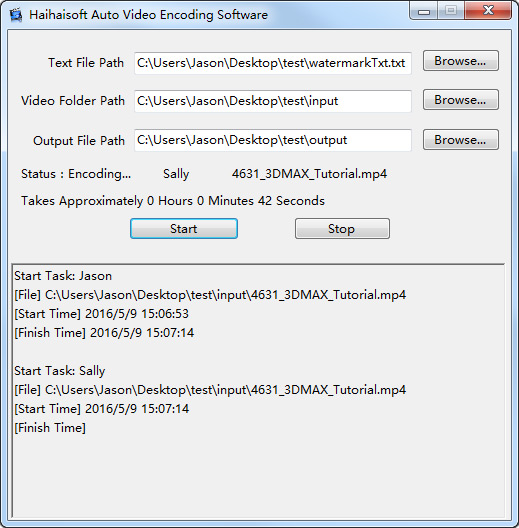 DRM-X 3.0 dynamic watermark hard-coded solution
For more details, please fill the contact us form below, we will give you a reply as soon as possible.
Get Free Quote:
* These fields are required