June 8, 2011, Haihaisoft announced Haihaisoft Reader for iPhone/iPad, it is available as a free software download from Apple iTunes AppStore. Haihaisoft Reader for iPhone/iPad/iPod 4 is a free PDF document reader, with fast launch speed. It is also for reading PDF document protected by DRM-X 3.0 platform. There is great business potential for content providers to distribute their DRM-X 3.0 protected PDF content on iPhone/iPad market and reach more users.

With Haihaisoft Reader for iPhone/iPad, the end users can easily read both protected and non-protected PDF documents.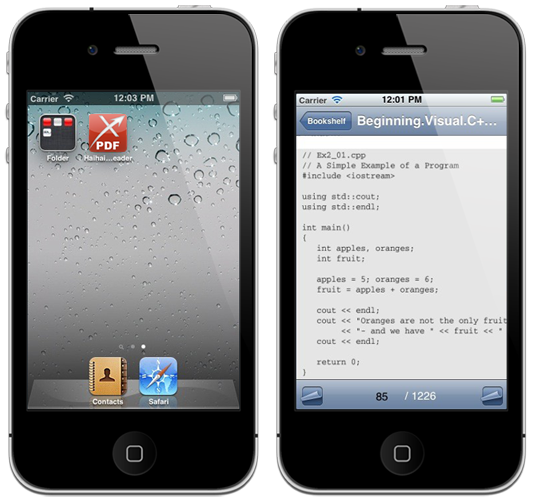 Haihaisoft DRM-X 3.0 helps content providers reach more consumers who use iPhone,iPod and iPad devices. Now Haihaisoft DRM-X 3.0 support Windows, Mac, Android and iOS system.

Consumers will be able to purchase DRM-X 3.0 encrypted PDF content from content providers website, and then they can enjoy the protected PDF documents in iPhone/iPad. Haihaisoft DRM-X does not only protect content providers' content copyright, but also greatly facilitate the consumers viewing PDF content.

Free download Haihaisoft Reader for iOS:
http://itunes.apple.com/us/app/haihaisoft-reader/id437433430?mt=8&ls=1

Requirements: Compatible iPhone/iPad/iPod with iOS 4.1 or later

Learn more about Haihaisoft: International | Spanish | Chinese
Learn more about Haihaisoft DRM-X 3.0: International | Chinese
Ask about Haihaisoft products, pricing, implementation, or anything else — our highly trained reps are standing by, ready to help.