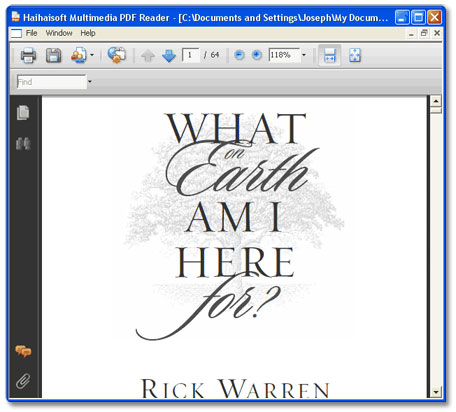 Haihaisoft, the major provider of DRM software, recently launches new Multimedia PDF Reader. It enables publishers easily protect interactive PDF document. It is a free PDF Reader based-on Adobe Reader or Acrobat for reading DRM-X.com protected interactive PDF files, such as PDF embedded with Flash, Audio/Video and so on. Though you have to install Adobe Reader or Acrobat before you can use it, but with its very small size 737 KB and the support of DRM-X.com the most powerful DRM system in the world. Haihaisoft Multimedia PDF Reader attracts more and more users, especially the eBooks provider who wants to protect them by DRM-X and sell them online. Here are some highlights:

Awesome launch speeds
Haihaisoft Multimedia PDF Reader launches immediately as you open it. Even you will never feel any delay. It saves your a lot of precious time.

Very small size
The download size of Haihaisoft Multimedia PDF Reader is only 737 KB. It is really incredible.
Try downloading now, less than 1 minute

Native Adobe Flash support
Haihaisoft Multimedia PDF Reader can natively display rich media content, which you'll notice immediately with Portfolios. Interested in viewing SWF and FLV files? Haihaisoft Multimedia PDF Reader is the answer.

High security and privacy
Haihaisoft knows that the security and privacy are very important for you. Haihaisoft Multimedia PDF Reader highly respects the security and privacy of users and will never connect to the Internet without users' permission. For protecting your privacy, Haihaisoft PDF Reader doesn't connect to the Internet in the background for updating. You just need to check version and update the software by single click in the Help menu.

DRM Support
Haihaisoft Multimedia PDF Reader supports reading the PDF documents with interactive capability (embedded video, flash, audio, etc.) and DRM. It is protected by DRM-X.com, the most powerful and comprehensive on-demand DRM system online. With DRM-X.com, you can carry out almost all the business scenarios you need and keep your contents under the most secure protection.
Learn more and take 90 days full functions free trial on DRM-X.com

But, that's not all. Haihaisoft Multimedia PDF Reader provides free update all the time and offers customization according to your requirement.

So, download Haihaisoft Multimedia PDF Reader! Or, distribute Haihaisoft Multimedia PDF Reader in your enterprise or bundle it with a CD or computer!
Ask about Haihaisoft products, pricing, implementation, or anything else — our highly trained reps are standing by, ready to help.