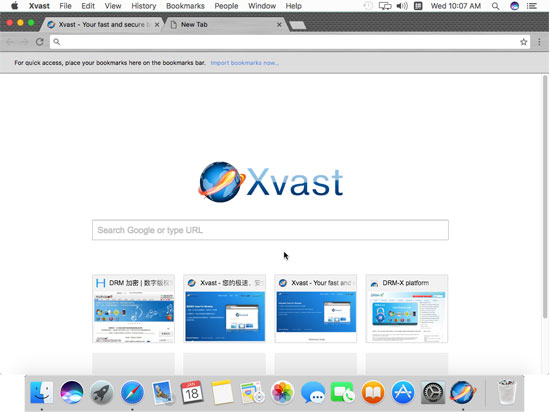 Jan 18, 2017. Haihaisoft releases Xvast (DRM) browser beta version for Mac OS. Now DRM-X 4.0 support: Windows, Mac, and Android platform. DRM-X 4.0 Enterprise account support all these platform with full features.
Xvast for Mac, it based-on Google Chrome browser. It gives the same user experience as Xvast for Windows. Currently, it supports DRM-X 4.0 encrypted mp3, mp4, WebM and PDF. User can both play the protected files online (with HTML5 Video tag) and offline. For HTML5 Video online and offline playback, Xvast supports different playback rate. You can also customize online HTML5 Video Player skin with VideoJS, and so on. It provides user better experiences like desktop video player, and it can integrate with your website seamlessly.
Xvast browser, it fully supports DRM-X 4.0 security features. For Mac, Haihaisoft Smart Prevent Screen Capture technology is based-on Whitelist feature. It only allows users run common software in Mac OS, so it disables user open Screen Recording or Capturing software. It gives content provider totally control the rights of their protected media and PDF files, such as: begin date and expiration date, open count, dynamic watermark, license combined with hardware, and so on. You can also revoke user's license.
Learn more about DRM-X 4.0: http://www.drm-x.com/DRM-X4.0-What-is-new.aspx
DRM-X 4.0 90 days Free Trial: http://www.drm-x.com/Fees-Compare-4.0.aspx
Download Xvast for Mac: http://www.xvast.com
Ask about Haihaisoft products, pricing, implementation, or anything else — our highly trained reps are standing by, ready to help.