Haihaisoft has completely revised Haihaisoft's official website and DRM-X website in August 2018 and September 2018 respectively, making the website more friendly and easy to read, and also improving the loading speed. The revised website is better compatible with the display of different resolution devices such as mobile phones, tablets and computers, which greatly enhances the user experience.
Haihaisoft's new website content adds an introduction to the new features of DRM-X 4.0: HTML5 web encryption, document security, image encryption and Javascript encryption protection. After Simplified Chinese, Traditional Chinese, English, Spanish, French has been added to better support global customers.
The DRM-X new website adds a detailed introduction to the DRM-X 4.0 product. Make mobile browsing websites and search easier and more convenient.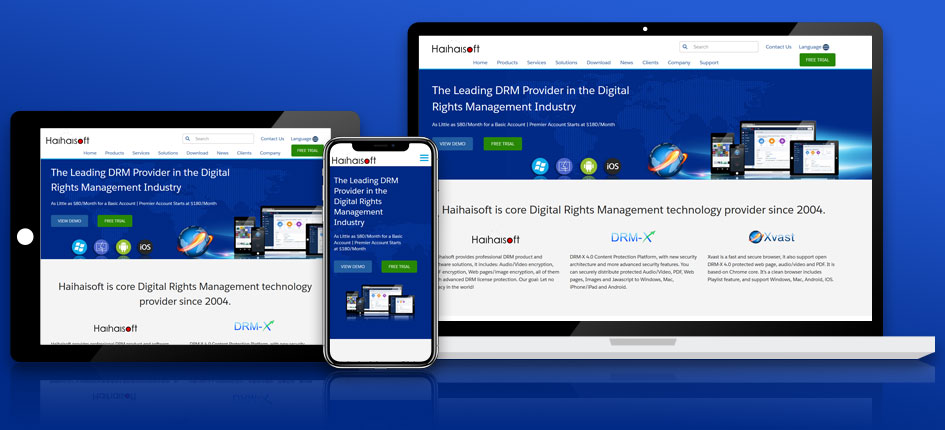 Haihaisoft, founded in 2004, is a small software development company focuses on Digital Rights Management core technology research and development. Haihaisoft provides customers industry leading DRM platform and streaming solutions. Haihaisoft offers content protection and related solutions that enable businesses to maximize the value of their digital content products. Haihaisoft's services and solutions are deployed by companies in education, training, consumer electronics, software, information publishing and company consulting markets to solve industry-specific challenges.
The solutions provided by Haihai Software include: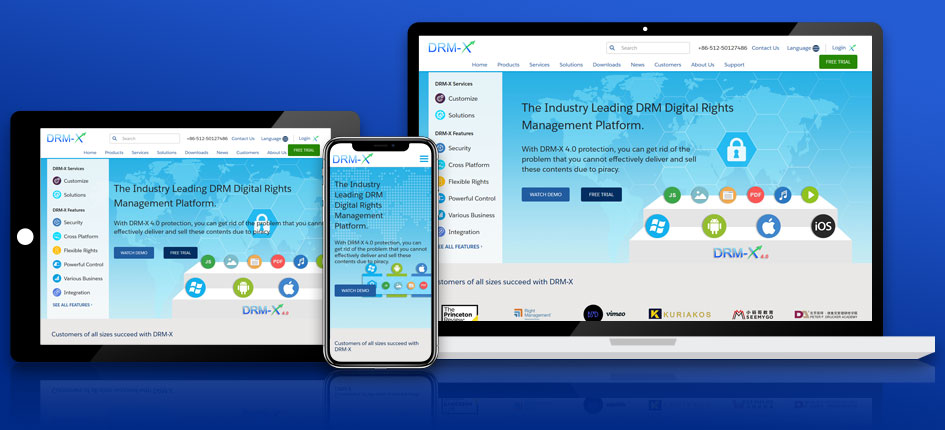 Haihaisoft DRM-X.com platform provides a unique, cost-effective and highly secure DRM service whereby you can easily protect, publish, and sell Audio/Video, PDF eBooks, Images, Web Pages to Windows, MacOS, iOS and Android users worldwide. It gives you total control over who accesses your digital content and under what terms, enabling you to increase revenue, bring products to market faster, and attract new customers.
DRM-X 4.0 is a new generation DRM platform based-on Xvast browser. DRM-X 4.0 gives customers higher security level of protection, it's more stable and easier to use. It supports playback online, read PDF online, interact with website, and also support local playback offline. It supports multiple platforms, Windows, Android, iOS and MacOS.
The DRM-X.com Platform offers increased flexibility to support a wide range of business models that provide consumers even greater access to protected audio/video, images, web pages and PDF documents.
With the revolutionary technology of DRM-X, it supports the most popular media formats, image formats, html web page, css, and JavaScript.
Haihaisoft.com English | Spanish | French | Simplified Chinese | Traditional Chinese | DRM-X.com
Renseignez-vous sur les produits Haihaisoft, la tarification, la mise en œuvre ou toute autre chose - nos représentants hautement qualifiés sont prêts à vous aider.